Blaze Transfer's One-Time Password (OTP) feature adds an extra security layer for downloading and uploading files. This process involves a two-step authentication, sending a unique code to the user's email, ensuring that only intended recipients gain access.
Case 1: Download Links with OTP
Attaching Files for Download:
Fill in the required details.
Attach the files you intend to send.
Enabling OTP Security:
Select "Verify access with One-Time Password via email (OTP)" for enhanced security.
Sending the files:
Share the download link directly with your intended recipient
Recipient Accessing the Download Link:
The recipient enters their email upon accessing the link.
They receive an OTP via their email.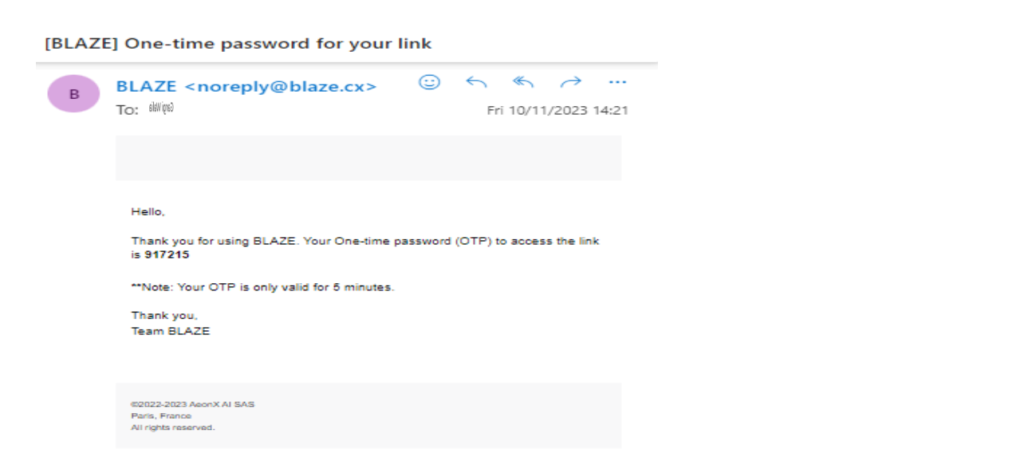 After entering the OTP, they can download the file.
Modifying Recipient Access:
Go to 'File History' and then the 'Sent' tab.
Select the relevant package.
Manage the link to add or remove recipients as needed.
Case 2: Upload Portals with OTP
Setting up an Upload Portal:
Complete the necessary details.
Choose "Verify access with One-Time Password via email (OTP)" during setup.
Note: Further steps are as similar to the Download Link steps mentioned above.