---
BLAZE Transfer ensures a complete E2EE (End-to-End Encrypted) file-sharing experience. When you create a portal, users can share the upload portal link personally with their colleagues or clients, allowing them to easily and securely upload files.
1. Access the Upload Portal
Click on the link that has been personally shared with you by the sender via SMS, WhatsApp, email, etc.
2. Uploading Files
To upload your files, start by entering a name for the package. Next, input your email, set an expiration date, and write a comment to the receiver. After ensuring all information is accurate and all desired files are attached, click on the "Send Files" button. 
Note: You can upload files using the same portal link for 30 days; after that, the portal will expire.
4. Upload Completion
Once the files have been successfully uploaded, you may close the Portal.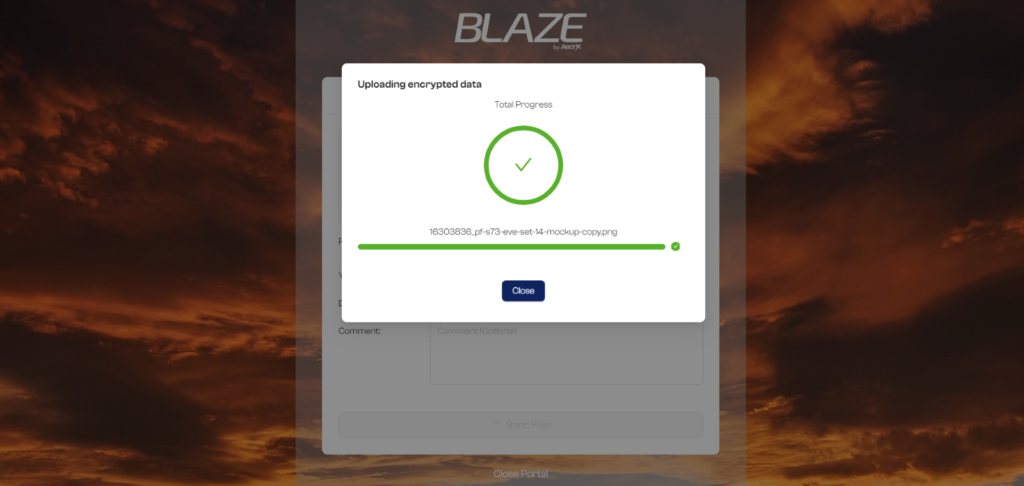 5. Upload file confirmation
After the upload file process has been completed, you will receive an email from BLAZE stating your successful file upload through the upload portal. 
* Note: If you want to add an extra layer of security to your links, a One-time Password (OTP) is available for the Pro subscription plan. Click here to learn more.