We're thrilled to announce that our product Blaze Transfer has been recognized as an impactful File Sharing software for businesses and for which we have been recognized as the Best Value Badge from verified reviewers on Capterra.
We've earned an overall rating of 4.7 (out of 5) on Capterra. Big thanks to all our users! It would not have been possible without your constant support and feedback.
 

"Our Best Value Badge from Capterra is a testament to our commitment to providing exceptional value. Thank you to our users for their trust and support"- Marzuk Kamal (CEO and Founder)
Here's what our users have to say about their experience with us:
 

"Blaze Transfer is very user-friendly and easy to use basically for any user. It's highly secure with End-To-End Encryption which offers top-notch security to our data and information. I love the peace of mind I get to know my information and data is stored securely. " – Rahma K.
 

"I feel so happy and secure knowing my data and information is secure and safe from any attacks or access from unwanted personnel. Blaze Transfer officers end-to-end encrypted large file transfer for all our business needs. Our data is safe against any inefficiencies, unauthorized access. I love the speed of files transfer while data is kept securely and encrypted in the the protected storage." – Kelvin K.
 

"I would say try this exotic software first as it is very simple to use. Thereafter you should definitely upgrade to premium plans. I am utilising Blaze Transfer's extremely well defined tool to move files from my laptop to their secured cloud storage. It keeps all my files in one place." – Roy J.
About BLAZE Transfer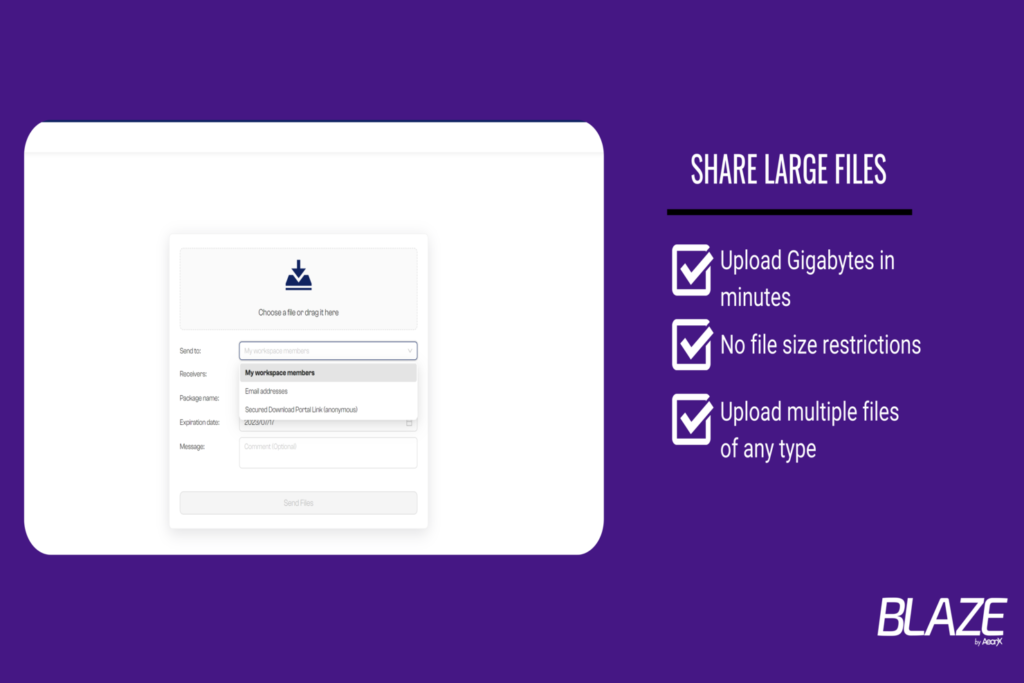 Blaze Transfer is the perfect solution for anyone who needs to send big files safely and quickly. Whether you're sharing data with your coworkers or collaborating with people outside your organization, Blaze's Quantum-Safe End-to-End encryption keeps your information completely secure. You don't need to be a tech expert to use Blaze Transfer – it's user-friendly and intuitive. Just upload your files, select who you want to share them with, and sit back and relax as they're delivered safely and securely.